-

Happy Advent!
It is so hard to believe that we have entered the season of Advent. There are many exciting things to look forward to as we begin the month of December. Students will be learning about, and completing different projects for, the season of Advent. We are learning that Advent is a time of waiting . . . waiting for the birth of Jesus, our Savior on Christmas day. Students will engage with relevant scripture passages, listen to and discuss religious Christmas songs, and complete various Advent-themed projects in class. I wish everyone a blessed, happy, and healthy Christmas and New Year!
- Mr. Griebel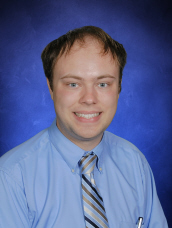 Christopher Griebel
Grade 4/5 Math
Groups: Teachers
Employed Since: 9/1/2016
5 Years Experience At School
I am currently in my sixth year at St. Pius V School. During that time, I have been fortunate enough to hold several different positions. This has allowed me to work with students from Pre-K all the way up to Grade 8. This year, I am very excited to be teaching fourth and fifth grade math. Outside of school, I have coached the St. Pius V basketball teams for three years. I received my Bachelors degree from St. Anselm College in Manchester, New Hampshire and am currently pursuing my Masters in Education from Salem State University.