Happy New Year!
As we come back from a (hopefully) relaxing Christmas break, we hit the ground running right away in our classes. In math, 5th graders we will be exploring order of operations and volume over the coming weeks, while 4th graders will continue working on their multiplication and division skills (but with much larger numbers). We will learn new strategies to accomplish these problems that will showcase what each child is learning. Looking forward to an exciting January!
- Mr. Griebel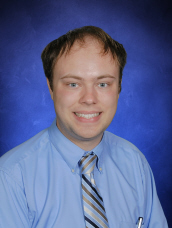 Christopher Griebel
Grade 4/5 Math
Groups: Teachers
Employed Since: 9/1/2016
5 Years Experience At School
I am currently in my sixth year at St. Pius V School. During that time, I have been fortunate enough to hold several different positions. This has allowed me to work with students from Pre-K all the way up to Grade 8. This year, I am very excited to be teaching fourth and fifth grade math. Outside of school, I have coached the St. Pius V basketball teams for three years. I received my Bachelors degree from St. Anselm College in Manchester, New Hampshire and am currently pursuing my Masters in Education from Salem State University.