News & Announcements
Christmas Concert
Join us to hear the beautiful voices of our children in grades 1-4. This year's Christmas Concert is Tuesday, December 18th at 7pm in the Upper Church.
Used Uniform SALE
Do you need uniforms for your child? Come to the Used Uniform Sale, sponsored by the Parent Guild, on Tuesday December 18, from 7:15-8:15am.
School Liturgy
Please join us at our next School Liturgy, hosted by our 3rd graders, in the Upper Church on Friday, Dec 21 at 10:00am. Early Dismissal from the church will follow.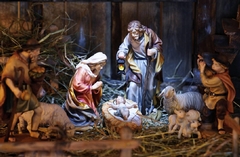 Christmas Break
There is no school from December 22 - January 2 for Christmas Break. Friday, December 21 is an early dismissal. Dismissal will be at 11am from the church, following Liturgy.
Follow Us!
See what we are up to at St. Pius V School! Follow us on Twitter, Instagram, and Facebook!
OFFICE HOURS
MONDAY THROUGH FRIDAY WHEN SCHOOL IS IN SESSION 7:30 AM-3:15 PM
View All

Events