Alumni are an important part of the great legacy at St. Pius V School! We hope you will stay in touch as the great legacy continues. Please complete our CONTACT INFORMATION FORM so we may communicate with you about school updates, reunions, and other news.
Previous Newsletters: Spring/Summer 2023 | Fall/Winter 2022 | Spring/Summer 2022 | Winter 2022 | Fall 2021 | Spring/Summer 2021 | Winter 2021 | Fall 2020 | 2019-2020 | 2016-2017 | 2015-2016
Alumni Spotlights
In the last few years, the Lynn Police Department has sworn in several new officers. Among them are alumni ROBERT LIBERGE, DANIEL ASHWELL, KAYLIN DECHENES, and MEGHAN SULLIVAN. They join St. Pius V alumni LT. GLENN DUNNIGAN, LT. ROBERT AVERY, SGT. MICHAEL MCHALE, and several other alumni and parents of students who currently serve on the LPD. In 2023, LT. GLENN DUNNIGAN '80 graduated from the 287th session of the exclusive and prestigious FBI National Academy in Quantico, VA. Internationally known for its academic excellence, the National Academy offers ten weeks of advanced communication, leadership, and fitness training. Participants must have proven records as professionals within their agencies to attend, an opportunity afforded to just 1% of officers. We are grateful and proud to have Lt. Dunnigan and all of these officers serving and protecting our city!
St. Pius V Alumnus and U.S. Air Force veteran ROLAND REGAN, JR. '66 co-authored the 2001 book From Boston to Berlin: A Journey Through World War II in Images and Words. The book documents his father's, along with co-author Christoper Mauriello's father's, experiences in World War II through uncensored original photographs and letters. Mr. Regan served nearly 5 years as an Air Force officer with NATO-AWACS Program and was honorably discharged as a Captain in 1983. He also wrote another book on Sports Marketing based on his 12 years of consulting experience in the field. Mr. Regan served as president and CEO of the National Childhood Obesity Foundation, Inc. (N.C.O.F.) in Marblehead, Massachusetts for 18 years until 2021. He has also taught courses on international marketing, business law, and the business of sport at Harvard University, Bentley University, Boston University, Salem State University, Suffolk University, and University of Vermont.
Congratulations to Officer BRENDA OBARISIAGBON '12, who recently graduated from the Academy of the Middlesex Sheriff's Office. Here she is with her 1st grade teacher, Mrs. Murray. We are very proud of you, Brenda!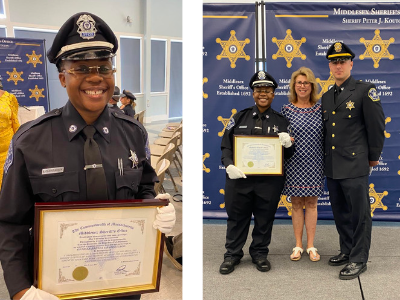 Alumnus DUNCAN WEBB '96 has been entered into the St. John's Prep Athletic Hall of Fame in October 2022 for his achievements in baseball. After graduating from St. John's Prep in '00, he went on to play and coach baseball at Amherst College. He currently serves as the Senior Director of Baseball Resources for the Los Angeles Dodgers!
Alumna DR. MARY (GILHOOLEY) DILL '73 retired in June 2022 after 40 years in the field of education, including 23 years as school principal at Lynn public schools. We are grateful that she has given back to our community in such a meaningful and impactful way. Read more about her retirement at lynnjournal.com/2022/06/23/school-principal-mary-dill-honored-at-retirement-party.
Alumnus BEN BOWDEN '09 was a Major League Baseball pitcher for the Colorado Rockies! Ben was named the state's high school baseball player of the year as a senior at Lynn English High School, and went on to play baseball for Vanderbilt University. An accomplished left-handed pitcher, Ben made his MLB debut in 2021! Way to go, Ben! Read about his big news at itemlive.com/2021/04/01/lynns-ben-bowden-makes-it-to-the-show and lynnjournal.com/2021/04/01/climb-to-the-top.
Alumnus DEMETRI UNDERWOOD '06, also known as Demo Woodz, is gaining recognition for his talent in acting and comedy. He was interviewed with the Lynn Journal in September '21: lynnjournal.com/2021/09/09/lynn-comedian-actor-demi-woodz-is-a-potential-star-in-entertainment-biz.
In June 2021, we wished a "Happy Retirement" to MAUREEN (BRUEN) WEBB, an alumna who has impacted thousands of lives of St. Pius V students and faculty. Mrs. Webb and her six siblings all graduated from St. Pius V School. Her four children are also graduates of St. Pius V, and she now has a granddaughter at the school. Mrs. Webb began teaching junior high at St. Pius V in 1989, and she joined the administrative team as assistant principal in 2000. Her influence on our school community has been truly immeasurable, and we are forever grateful for her 31 years of service to our school.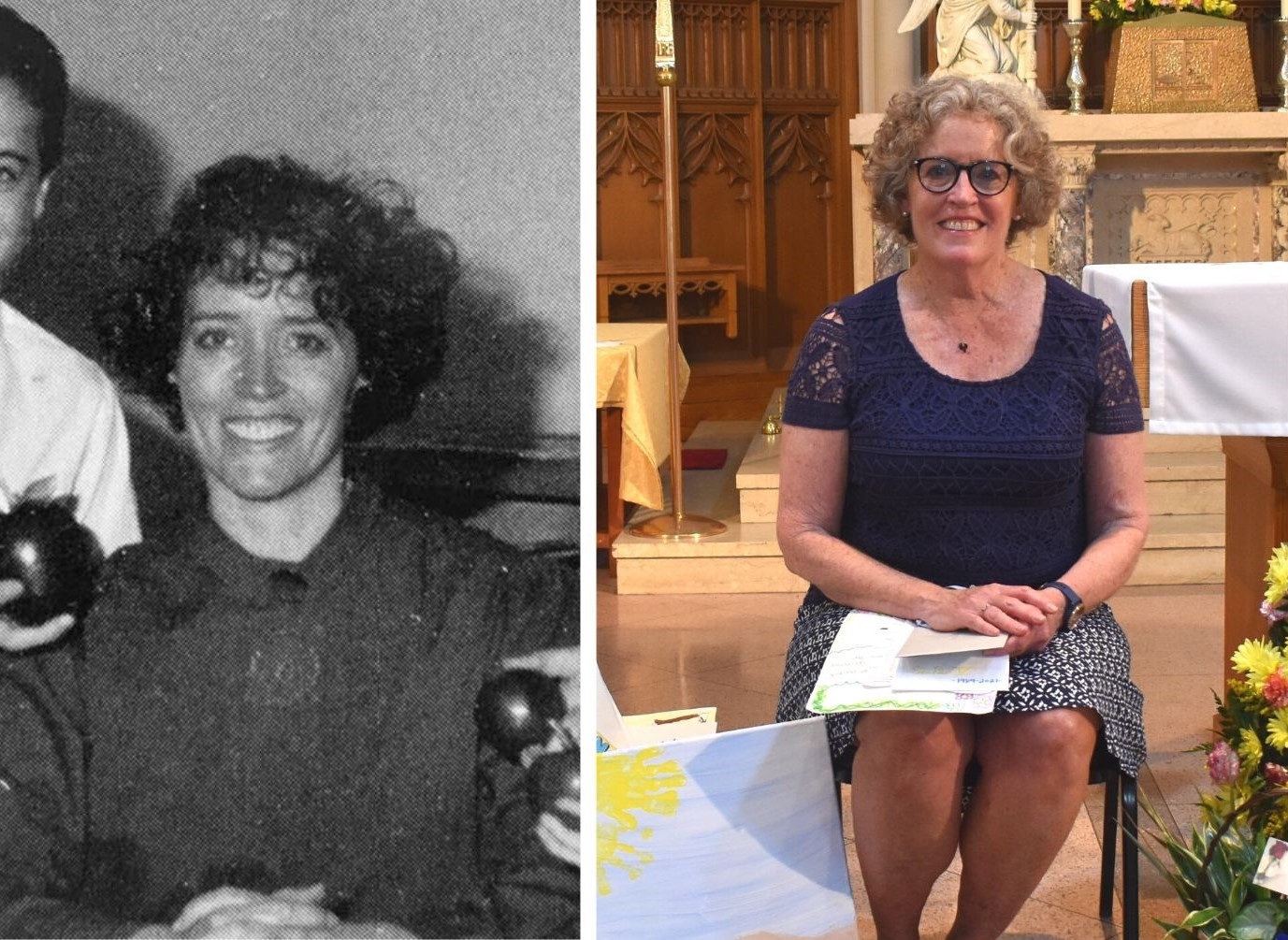 In January '21, the Lynn Journal published an article highlighting the accomplishments of alumna MICHELLE ROACH '99. She is described as "both a pioneer and a role model for aspiring young women in the fields of sports, education, and business": lynnjournal.com/2021/01/28/centered-ice-catholic-education-is-the-foundation-on-which-michelle-roachs-success-was-built. Michelle is head coach of the Peabody High School girls hockey team, and she was named 2020-2021 MIAA Coach of the Year! The Lynn Journal published an article about this achievement: lynnjournal.com/2022/01/13/michelle-roach-namedmiaa-girls-hockey-coach-of-the-year.
Congratulations to TABAN MANYOK '16 on all your accomplishments in track! Taban was featured in The Daily Item on September 29, 2019: itemlive.com/2019/09/29/st-marys-manyok-leads-the-pack-at-kelley-invitational. Taban won the Tri-County League MVP for three consecutive seasons and was named the 2019-2020 Item Player of the Year for boy's track! In fall 2021, as a sophomore at Fitchburg State, he won the MASCAC men's cross-country title en route to earning conference Runner and Rookie of the Year honors. In fall 2022 and again in spring 2023, as a junior at Fitchburg state, he was named Massachusetts State Collegiate Athletic Conference (MASCAC) Men's Cross Country Runner of the Week. While at St. Pius V, Taban was a Cross Country Road Warrior and the Student Council Commissioner General for the Class of 2016.
As the Senior Vice President of Global Creative Strategy and Research at Sony Pictures, CHRIS LIBERGE '04 has been working on some pretty incredible films, such as Spider-man, Jumanji, Hotel Transylvania, Venom, and most recently Netflix's The Mitchells vs. the Machines! deadline.com/2019/10/sony-pictures-kate-donnelly-chris-liberge-senior-vice-presidents-of-global-strategic-marketing-and-research-1202771594.
The Lynn Journal interviewed alumna KERI CLOUGHERTY '17 in January '21. Keri has been "a standout at each level in her impressive ice hockey career", and she now plays in the NCAA (W) for Boston College. lynnjournal.com/2021/01/06/clougherty-the-latest-lynn-star-to-play-hockey-for-the-bc-eagles.
Alumnus MICHAEL COLE '08 has been making a positive impact on our city as the communications and outreach coordinator in the Mayor Thomas McGee Administration. He was interviewed by the Lynn Journal in December '20: lynnjournal.com/2020/12/03/a-valuable-member-of-the-mayor-mcgee-team-holy-cross-grad-michael-cole-enjoying-his-role-as-communications-and-outreach-coordinator.
Congratulations to ORVIS NJIKA '19 and MADYSON SILVA '19, who were both part of the first group of Garrity Scholars at St. Mary's High School. The Garrity Scholars Program is a merit-based four-year full-tuition scholarship that, only granted to about ten incoming students, is the most prestigious award offered at the school. Read Lynn Journal's June 6, 2019 announcement of the Scholars: http://lynnjournal.com/2019/06/06/st-marys-names-first-class-of-garrity-scholarship-recipients. St. Pius V graduates have been among this elite group of scholarship recipients every year since the program's inception, including alumni MICHELLE AZZUN '20, EMMA CASEY '21, ARTHUR OELKE '21, SAGE GREAVES '22, TONY HUYNH '22, and AMY TRAN '23. (*while these students were all honored with the offering of the Garrity Scholar Award, not all of them chose to attend St. Mary's)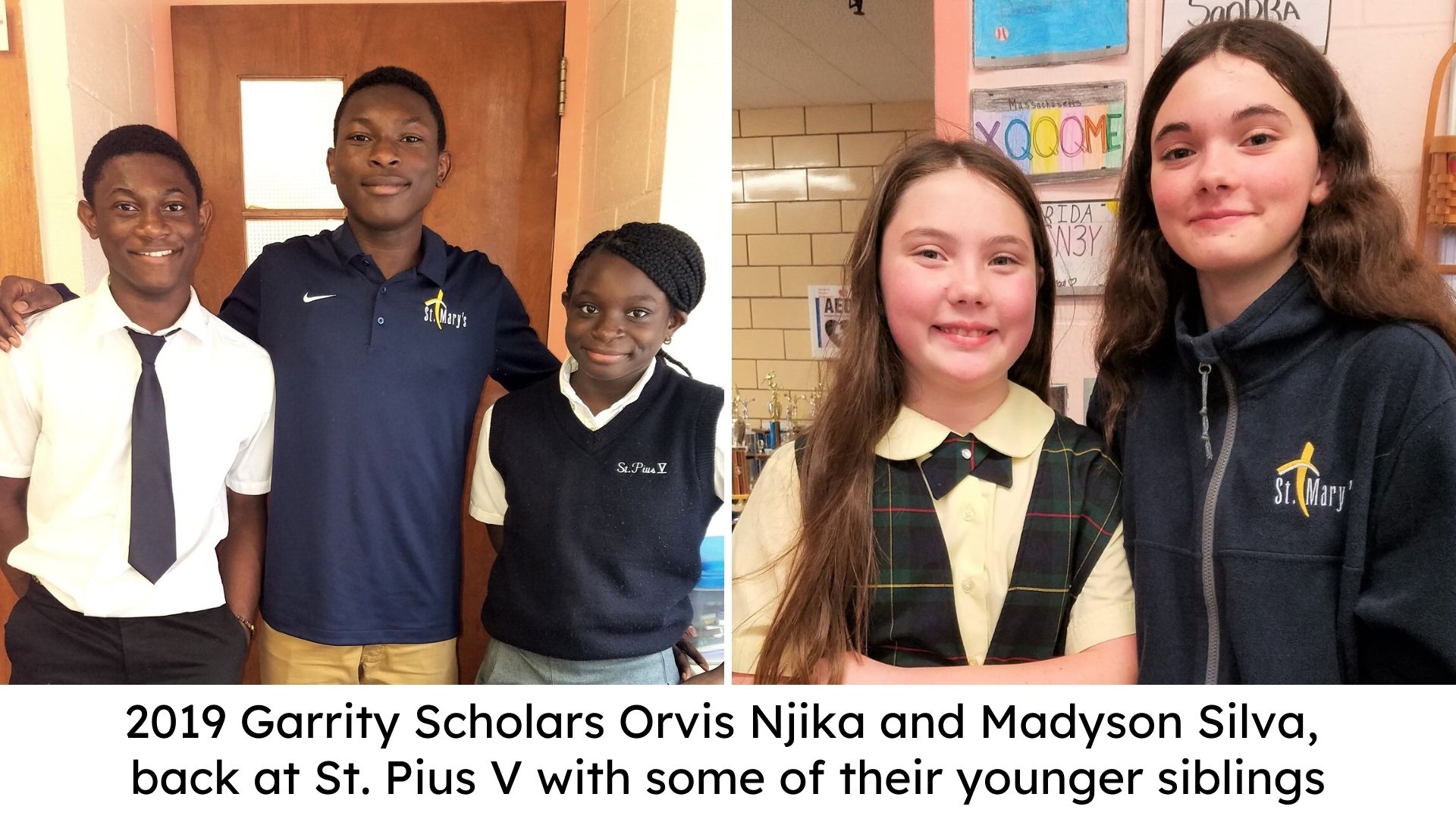 Special Thank You to GRACE GOODELL '15, EMILY WOOD '15, and RYAN MARONEY '15, for bringing theater to life at St. Pius V School! Grace Goodell led our 7th and 8th grade Drama Club in 2018 and 2019. In 2019, Emily Wood and Ryan Maroney led an Improv Club for 5th and 6th graders. We are so grateful to our alumni for giving back to our school and serving as role models for our students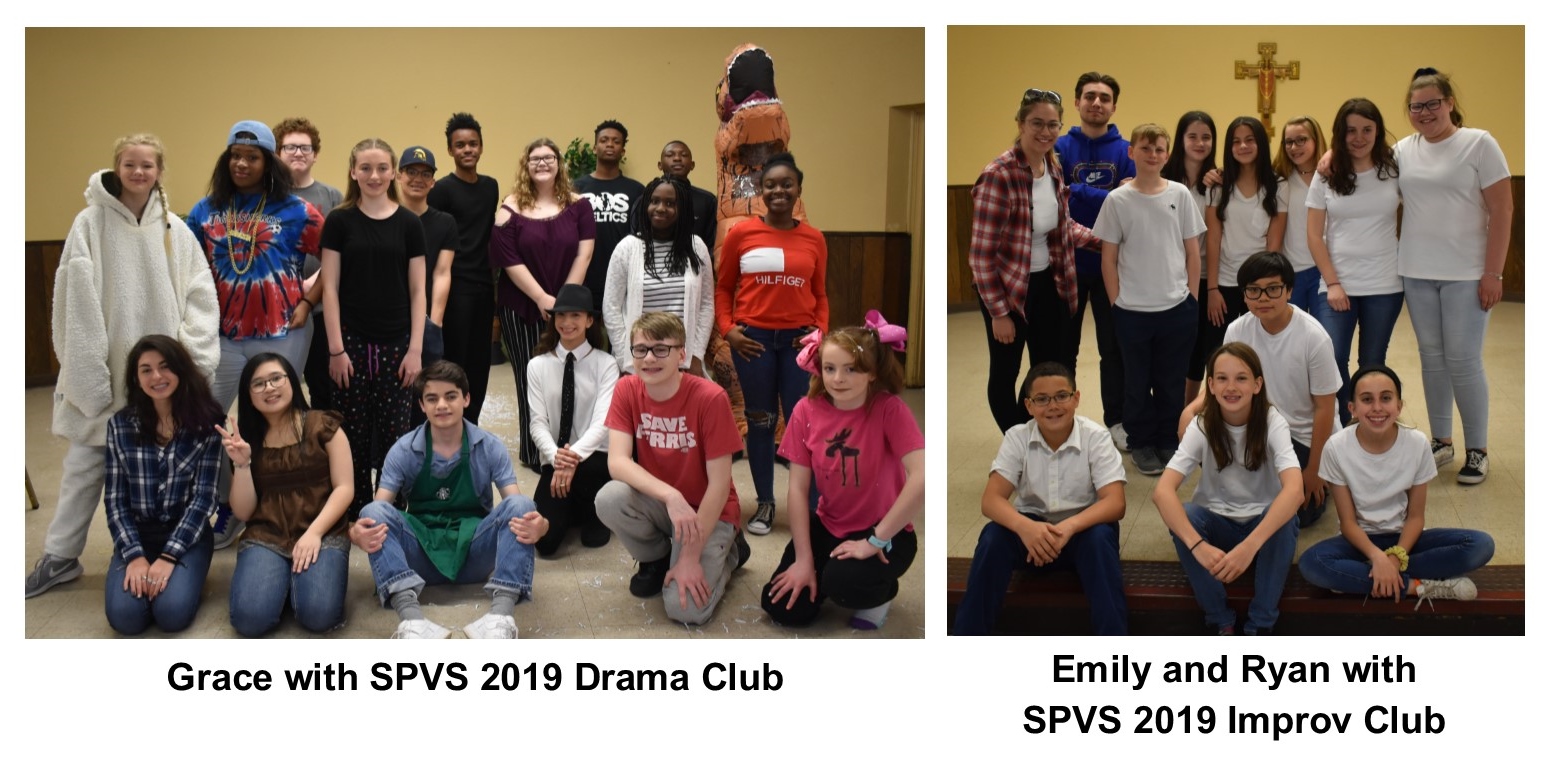 At our 2019 Student Council Inauguration, we were honored to receive an inspiring keynote address from MEAGHEN HAMILL '02. Meaghen was Commissioner General during her eighth grade year at St. Pius V, and went on to serve as Chief of Staff to Lynn Mayor Thomas McGee! Here, she is pictured with our 2019-2020 Commissioner General, Michelle Azzun '20, and our 2018-2019 Commissioner General Orviz Njika '19.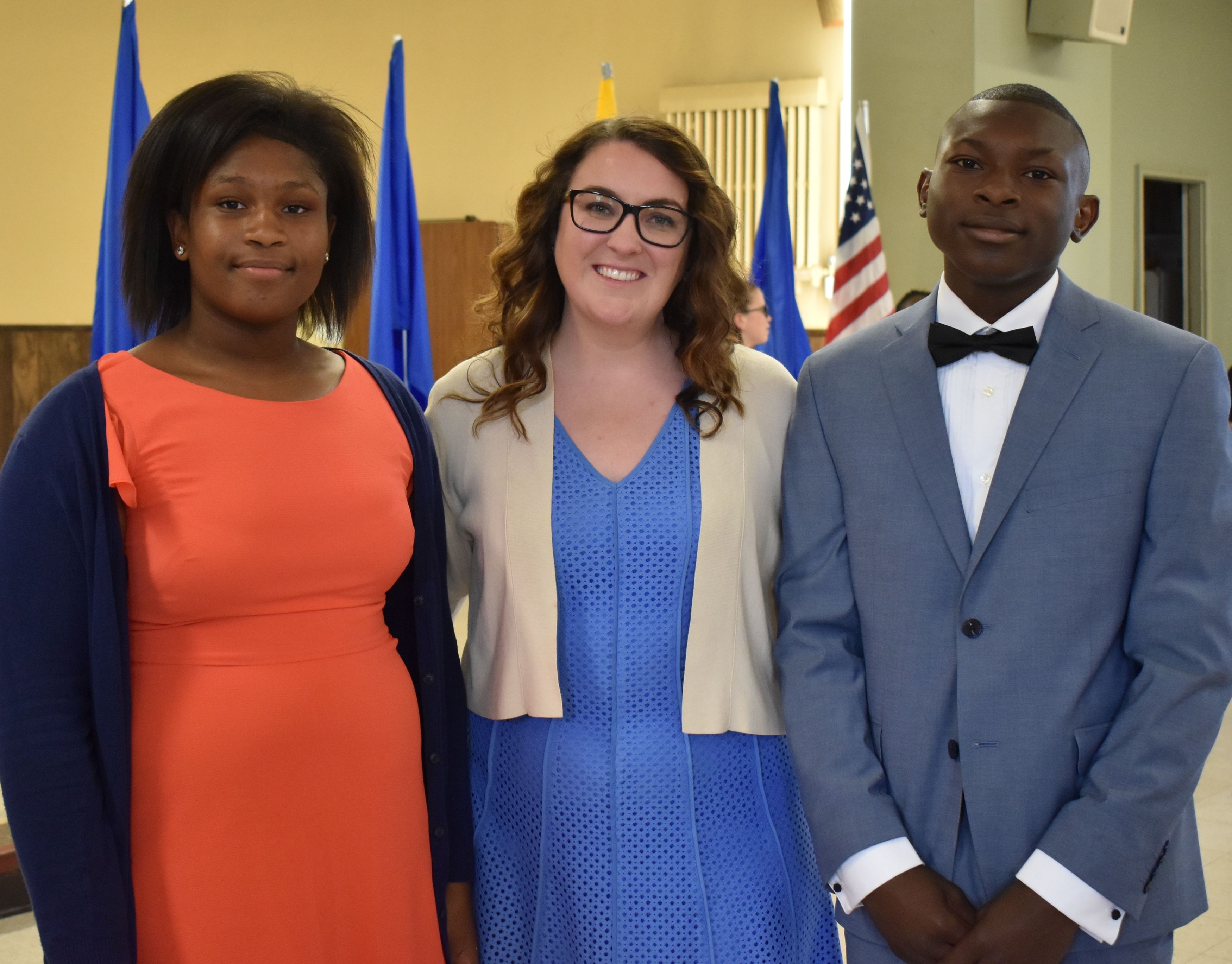 Alumnus DAN KENDALL '04 is the founder and CEO of Sincere Metal Works, the foundry that crafted the Boston Marathon Memorials that were installed in 2019 to honor those affected by the 2013 Boston Marathon Bombings. Read about the project on boston.com and The Boston Globe.
Congratulations, MICHAELA OLABISI '15 on your academic successes! Michaela was awarded a full scholarship to Vassar College in New York and was featured in The Daily Item on January 1, 2019: https://www.itemlive.com/2019/01/01/st-marys-senior-receives-full-ride-to-vassar-college-with-scholarship.
We are so very proud of alumnae MEGHAN TURNER '14 and ASHLEY TURNER '05! After graduating from St. Pius V, these two sisters each went on to become valedictorian of their graduating classes at Lynn English High School. After graduating high school in 2009, Ashley graduated from Harvard University in 2013. Meghan was the valedictorian of the LEHS class of 2018, and then went on to Harvard University as well! Congratulations on all of your accomplishments, Meghan and Ashley! Meghan and Ashley were featured in The Daily Item on June 4th, 2018: https://www.itemlive.com/2018/06/04/sister-graduated-lynn-english-valedictorian-went-harvard-now.
Alumna SHERÉE DUNWELL '99 has spent the past several years rocking the North Shore music scene AND the big screen. Sherée was crowned North Shore Star at the North Shore Music Theater in 2013 and won the championship on WCVB's Community Auditions in 2015. She then appeared in the Robert De Niro film, "The Comedian", in 2016! Sherée also advocates for at-risk youth as a volunteer for the Mass Mentoring Partnership. She has run 8 Boston Marathons for the organization raising over $100,000 for kids in need. Read more about Sherée here: https://www.newrep.org/people/sheree-dunwell.
Have you seen the beautiful local photographs by Irish Se7en Photography? The man behind the camera is alumnus SHAWN HOGAN. Follow him on Facebook or view his photographs at irishse7enzenfoliocom.zenfolio.com.
Several of our alumni have been so inspired by the teachers at St. Pius V School, that they went on to become teachers themselves... right back at their alma mater! Some of the alumni that have taught at St. Pius V School include CHERIE (WHALEN) MAESTRANZI, MAUREEN (BRUEN) WEBB, RITA (KENNEDY) BURKE, ASHLEY BOWDEN, AMANDA (HAYOZ) VALDES, KRISTEN CAHILL, KRISTEN DONNELLY, BEN DISCIPIO, and JOE HALLISEY. Other alumni who have worked for St. Pius V School or St. Pius V parish include KIMBERLY LE, MILLERY PORTER, JORDAN MARTIN, BEN CAPPUCCIO, BRIAN BLOOM, CHRIS ORLUK, CAILYN WEBB, BRIGETTE WHALEN, MADYSON SILVA, BILLY MOGLIA, and DEANNA MOGLIA. All of these alumni have truly given back to their community in a very special way!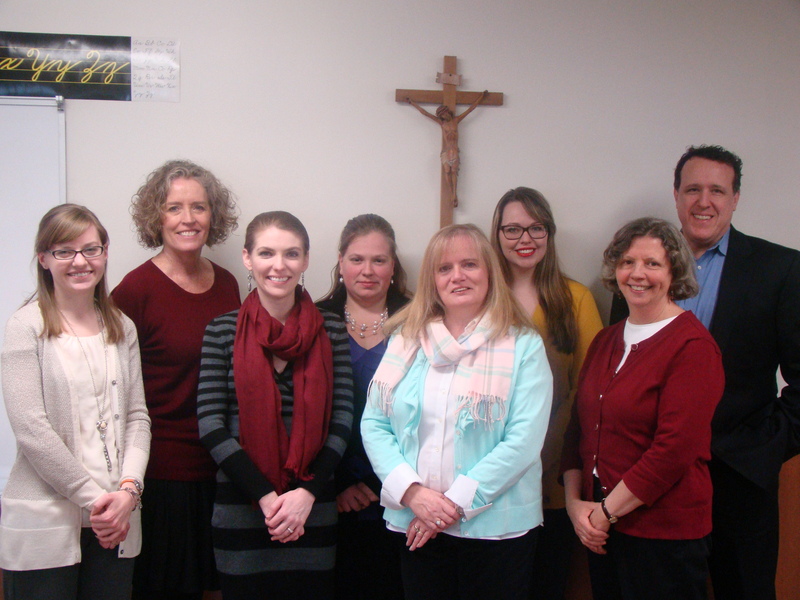 Do you have a great story or news to share about yourself or another St. Pius V School Alum? Email to alumni@stpiusvschool.org with the subject line "Alumni News"